Products

Helicopter Upgrades

M

ulti-Copter

Parrot AR Drone

MIA Tri-Copter

Autogyros

MIA MPG RC Autogyro Kit

MIA MTG RC Autogyro Kit

Microlights

MIA EZ RC Trike 1.0

MIA EZ RC Trike 1.5

MIA EZ RC Trike 2.0

Ultralights

MIA Mini Robo RC UL

MIA EZ RC UL 1.0

MIA EZ RC UL 1.5

MIA EZ RC UL 2.0

Pilots

Pilot Figures Torsos Helmets

Flight Instrument Panels

MIA Instrument Panel Small

MIA Instrument Panel Medium

MIA Instrument Panel Large

Rock Crawlers

2014

Cars

MIA RC-10 Body Kit

MIA RC-10 Pilot Kit

MIA RC-10 Spoiler Kit

Boats

MIA Micro Speed Boat Kit

MIA Micro Air Boat Kit

MIA Micro Sail Boat Kit

Decals

MIA Micro Helicopter Decals

MIA Autogyro Decals

MIA Microlight-Ultralight Decals

MIA Boat Decals

MIA Rock Crawler Decals

MIA Car Decals

Apparel

MIA RC T-Shirt 1

MIA RC T-Shirt 2

MIA RC T-Shirt 3

Tools

MIA Micro Drill

Materials

CA Glue

CA Accelerator

Small Size Carbon Rods

Small Size Fiberglass Sheets

MIA Select :

Carbon Pattern Plastic

SQ Wood Stock

SQ Aluminum Stock

SQ HDS Plastic

SQ ABS Plastic

Round Rigid Plastic

Round Flex Plastic

RC Microlight Sail Mtrl.

Heat Shrink Tubing

Hardware

MIA Select Micro Metal Screws

MIA Select Micro Metal Washers

MIA Select Micro Metal Nuts

MIA Select Micro Nylon Screws

MIA Select Micro Nylon Washers

MIA Select Micro Nylon Nuts

MIA Select Nylon Clips

MIA Steering Wheel Horns

MIA Wheel Pants Retainers

MIA EZ Vac-a-Form™

MIA EZ Inject-a-Mold™

MIA EZ Vac-u-Maker™

Product by Category

Phantom

MIA Upgrades

Although the various Upgrades we make, were designed, specifically, for the associated helicopters, many of these will also work with similar other helicopters, not listed or shown in our web site.

Please enquire, via our

E-mail , if you have a specific helicopter brand or model you wish to upgrade.

MIA GLYPHICS ™ DECALS
Welcome to MIA Micro-FLIGHT

Wide selection of Unique RC Products and Aftermarket Parts

If you like your models with Originality, Character and Personality, you've come to the right place.

We strive to offer products that set themselves apart from the typical and make your hobby more enjoyable.

December 2014 Latest !!!
LIMITED EDITION

Soft Poseable Lightweight

MIA 1:6 Scale RC Model Pilot Figure

in Santa Clause Theme

Order Deadline Dec 12, 2014

PRE-ORDER YOUR VERY OWN
RC MICROLIGHT, ULTRALIGHT OR AUTOGYRO KIT
TOP RC MODEL GIFTS FOR ROUND THE CORNER 2014 HOLIDAY SEASON!
Deadline Dec 12, 2014

MIA EZ™ 1.25 Trike Kit RC Microlight got even better!

In our constant endeavor to raise the bar with MIA designs and provide our customers with an awesome! product,

these super! MIA EZ™ Trike RC Microlight Kits come with

* MIA ACF™ (All Aluminum-Carbon Frame)

*MIA HPFW™ (High Performance Flex Wing) Rib Pocketed Rip-Stop Nylon Sail

* MIA SSAG™ (Self Stabilizing-Adjusting Geometry) Direct Control System.

This MIA invention is a mechanical system which has been refined further in order to provide

unparalleled direct control and support to the wing, but also allow the wing geometry to self adjust and stabilize in flight.

MIA EZ™ 1.25 Gyro

A Sexy New RC Autogyro Conversion Kit

for the Durafly Auto G/G2

with

Mario I. Arguello's Original "Easy Autogyro" Control Parts

* MIA EZ™ Gyro Universal Aluminum Control Head

* MIA EG™ (Enhanced Geometry) Rotor Flex Plate

* MIA TTL-BB™ (Threaded Twist Lock - Dual Ball Bearing) Rotor Hub

* MIA TLMS™ (Thumb Lock Blade Mounting Screws)

No RC Microlight or RC Autogyro out there including some that also claim to be "trainer" models

flies like any in the MIA EZ™ Line. Check out all MIA EZ™ Line RC Model videos.

MIA RC Ultralights with Authentic Nylon Sail Parts

MIA EZ™ 1.25 Trike - RC MICROLIGHT

MIA Articulated Pilot Figure with Animatronics Head

A bit larger than a GI-JOE Figure at a fraction of the weight!

Also Available for GWS or Hobby King Slow Stick UL Conversions

or any project requiring a more realistic Ultra Lightweight Pilot Figure. Read More and Purchase Here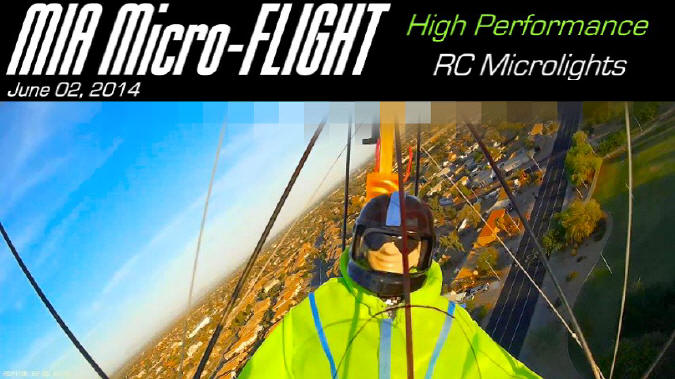 The Slow Stick MIA UL Conversion Kits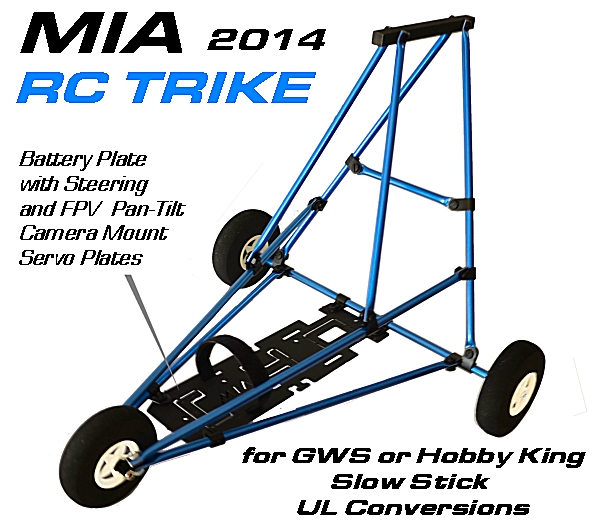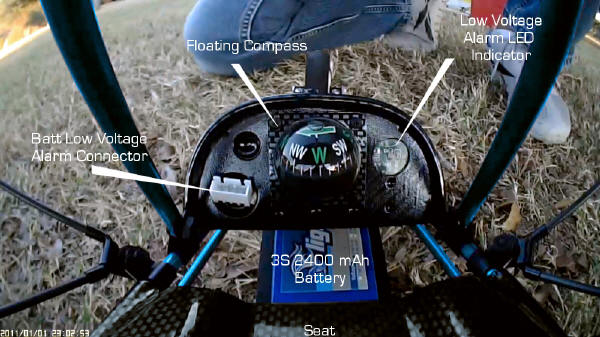 Now in More Robust Aluminum Anodized Blue!

a Superb! FPV Platform Read More an Purchase Here

NEW GORGEOUS !!! MIA Quicksilver Style

"Full" Aluminum and Carbon Rod Frame Kit

If you prefer a Quicksilver style RC Microlight "FULL" Aluminum Frame Kit

go with the following setup. Read More and Purchase Here

MIA EZ™ Gyro 1.5 Conversion Upgrade Kit (Pusher Bensen Style)

for the Auto G/G2 RC Autogyro Read More and Purchase Here

A Fun Vector Control Ultralight Park Flyer 1:8 Scale

Stylish Super Park Flyer Micro Bensen Style RC autogyro Kit 1:8 Scale

What our customers are saying about our newly released MIA EZ™ Gyro Products!

Hi Mario - Well got three flights on it yesterday..far better leaving it in high rates as more control for me..end of last flight cut motor at altitude to check autorotation..works like a charm..fly bys look amazing..impressive model and design and yes built like a tank....I am very interested in the conversion kit for the durafly. - Steve

Mario, You got a heck of a product, this is my first pusher autogiro. I started with an auto G, but I love the compact nature, performance and durability of your design and your blades are amazingly durable. After many attempts and crashing while getting the hang of it, I have not broken a single blade! Thanks and keep up the great work. - Francisco

Hi mario, The ezgyro 1.0 is a rocket on full power with 3cell pack..gets you out of nasty situations with a blast of power...been flying mine on full rate and max throws..slow fly bys are a hoot to see...Need to make a bumble bee stickers for it as the general concensus at flying field it looks and sounds like a rabid bumble bee flying as has that distinctive sound..hell of a design..my compliments. - Steve

Mario, your EZ autogyro is raising eyebrows at the field. I sent a couple buddies over to your site. I am amazed at how fast it flies on a 3S lipols and how docile it handles on 2S. No broken parts or blades yet, scuffing typical on the ends of the blades, but that's expected. I've tried a few autogyros out there and have gone through lots of broken blades, seems to be the weak link of autogyros, but I'm very impressed with the EZ blades. You should consider making them larger and selling them for the auto gs, as well as others - Collin

A Fun Stylish and High Performing Park Flyer RC Microlight 1:8 Scale

Our unmatched MIA Phantom™ Carbon Pattern molded canopies and MIA TUFF™ LG

are the most durable, yet lightweight RC micro helicopter upgrade parts you can find.

In addition to making a stock helicopter look more serious and less toy like.

SPECIAL FREE OFFER!

GET A FREE MIA PHANTOM -TUFF™ CARBON PATTERN BODY KIT

FOR YOUR Team Associated, AXIAL or SIMILAR

ROCK CRAWLER RC CAR OR TRUCK

MIA Cyclops™ Multi-Rotor Upgrades for the Blade Nano and 180 QX

MIA EZ™ Vector Control Ultralight

Based on the Historical Demoiselle Airplane

MIA Ultralight Conversion Kit

for the Slow Sticks

Realistic and Super Stable Platform

for FPV Flights

CUSTOM DECALS FOR RC MODELS

Freestyle Art, Military, Fun, Insignias, International Flags, Police, Coast Guard, Vietnam Era, WWI, WWII, NASA, Rocketry. Often times Customers come to us to make them a custom paint scheme decal or art that they had on a real aircraft they owned or own. We match it in scale to the particular model.

PLEASE E-MAIL US with your Request

Color Background option to match your model body color or paint scheme.

A small example, black silhouette on white for white model surfaces. Printed on yellow for models with yellow surfaces as photo of palm-size heli above.

Printed on High Quality Vinyl media ready to trim peal and apply.

MIA S300

Coming soon for the Blade 120 SR

Just like the ones we do for the smaller palm-size helis but for sub-micro size

MPI, Military Stealth Brown, Dessert Tan and Olive Drab Scale Bodies
Aftermarket Parts for Micro

E-Flite Blade

Walkera

Aftermarket Parts for

RC Multi-Copters

Blade Nano QX
Blade 180 QX

Blade mQX

Walkera Lady Bird

Combo Kits
Canopies
Landing Gear

Camera Mounts

Aftermarket Parts for
RC Autogyros

Durafly Auto G/G2

Rotor Delta Plates

Rotor Hubs

Landing Gear

Mast Covers

DC Heads

Camera Mounts

Pilot Head

Decals

RC Trike Kits

(Microlights)

MIA RC Robo Trike

MIA EZ RC Trike 1.0

Pilot Figures
Torsos and Helmets
For
Micro and Giant Scale
RC Aircraft

Steering Kit

Instrument Panel

Pilot Helmet-Torso

FPV Camera Mount

Colorful

Scale Body Kits

MD500E

S300

Military

Scale Body Kits

MD500E

S300

Custom

Navigation Lighting Kits

MIA Photon™ Lights

Unique
Hard to Find
Hobby Tools


MIA 000 Screwdriver

MIA 001 Screwdriver

MIA M2 Micro Hex Nut Wrench

Micro Drill

Materials and Hardware

Custom Decals


Information
Dealer Enquiries
About
Other Great Places
Testimnonials
Important
A Message from MIA

2013
Our web site www.micro-

flight.com has grown to be

very popular and as such,
we have an overwhelming

number of viewers and

return customers.

As always, we are very

thankful to everyone who

has contributed to MIA

Micro-FLIGHT's growth and

we look forward to continue

to offer more exciting

products.

link of your MIA Upgraded

Heli or Product?

Let us Know.
Super! Products
Rotor Stabilizers

Decals

Rotor Blades

Micro Parts

Micro Tools
MIA Innovations

MIA ROBO RC TRIKE™
True Weight Shift

Pilot Control System