MIA Ultralight Bolt -On Conversion Kit

for Slow Sticks GWS and Hobbyking

From these ...

or your own DIY wings and square boom
To this ...

Realistic Ultralight and Super Stable Platform for FPV Flights

NEW Blue color for 2014 Show Here with Painted Matching Color Blue Wing

MIA UL Conversion Kit Options:

Full Conversion Kit $69.99 With MIA Phantom™ Carbon Pattern Seat & Front Panel

Basic Conversion Kit $49.99 Without MIA Phantom™ Carbon Pattern Seat & Front Panel
Features
Today in age, more people are getting into FPV (First Pilot View) or virtual flying of RC aircraft. If you are into this area, the MIA UL Conversion Kits and MIA Cyclops™ FPV Camera mounts we have for the popular Slow Stick airplane provide such. A super lightweight an excellent platform for stable FPV flights or for simply enjoying the RC model as a more realistic ultralight.

The kit features a New 2014 Blue Anodized Aluminum Tubular Frame with carbon rod struts. Assembles using MIA Flex™ press-fit connectors and MIA TUFF™ Select bolt-on lightweight nylon hardware for easy of assembly and durability. It comes with 3" large diameter wheels for ease of take off and landing from grass fields as well as from pavement.
| | |
| --- | --- |
| | The Full Conversion Kit comes with the MIA Phantom™ Carbon Pattern Seat and Front Panel. |
Assembles into this Trike. Seat, Front Panel, Motor Mount and Wing Struts (included in each kit) but not show in this photo for simplicity.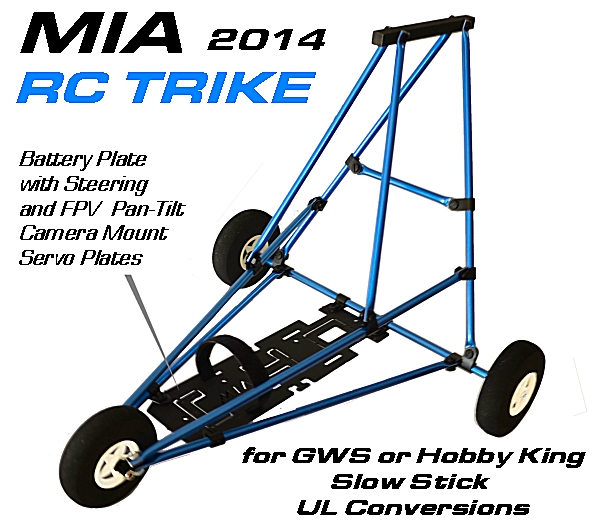 Kit Contents
New Dec 2013 - 2014 Kit:Larger 3" Diameter wheels and MIA Phantom™ Carbon Pattern Seat and Front Panel

* 1) Main Frame -- Anodized Aluminum Tubes, Trike Mounting Straps and Boom Support
* 2) Main Frame Hardware -- Nuts and Bolts
* 3) Landing Gear --New 3" Diameter Larger Wheels and Mounting Hardware
* 4) Battery Holder -- CNC Machined Battery Holder Plate, Mounting Hardware, Hook and Loop Straps
* 5) Seat and Front Panel -- Carbon Pattern Molded Seat and Front Panel Cover, Mounting Hardware
* 6) Motor Mount -- Motor Mount Plate -Arm assembly, Mounting Hardware.
* 7) Wing Struts -- Carbon Rod Struts, Mounting Hardware
Required Materials and Tools

* Medium size Flat and Philips head screwdriver

Required Equipment

* Same as you already use on your Slow Stick, Spektrum DX6i, HK T-Six, or better.

Spektrum DX6i or HK T-Six Orange Transmitters
| | | |
| --- | --- | --- |
| | In order to fly this model, a programmable transmitter is required, such as the Spektrum DX6I or the HK T-Six Orange Transmitters (Mode 2 USA use) as these are highly popular and have been thoroughly tested with the also popular Spektrum and HK respective orange DSM2 receivers. | |
Optional items

Steering Wheel Kit
Steerable Front Wheel Kit $9.99

For Metal Gear 9 Gm Servo

Pilot Head, Torso and Instrument Panel
For On-Board Model Static Mount or to be used with Compact FPV Pan-Tilt Camera Mount
For both MIA Edge™Colors and MIA Phantom™ Carbon Pattern molded parts options:

The Pilot Head is simply a cover for a small camera such as an 808 #16 popular keychain camera or similar size FPV camera. The molded head can be perforated to provide a front opening for the camera lens. This assembly can then be mounted with double sided foam tape or Velcro to the flat side of a servo installed to a compact pan-tilt camera support, fitted on a servo mounting pocket on neck of the pilot torso.

The NEW instrument Panel is a full mold (not just a flat curved cover as in earlier options). It is designed to be used with an optional or user supplied floating compass and Low Battery Voltage Alarm indicator, as in the photos below, also in our recent videos, or you can mount your own visual electronics to the dashboard, in anyway you like. The front of the instrument panel has a raised pocket with a small perforation to house a small buzzer for battery low voltage alarm indication.
MIA Cyclops™ Molded Pilot Head, Half Torso, Instrument Panel, Decals KIT

(EDGE Solid Colors) $15.75
MIA Cyclops™ Molded Pilot Head, Half Torso, Instrument Panel, Decals KIT

(Carbon Pattern) $24.99
MIA 1.25 Ultra Lightweight Articulated Pilot Figure - with Animatronic Head

BACK BY POPULAR DEMAND!!!

MIA "Pusher" Rear Seat Motor Mounting KIT

as in MIA Original 2011 RC UL Conversion Kit for the GWS or HK Slow Stick

NOTE: We have added this setup back, also per requests of customers who wish to keep the front end of the model totally unobstructed for FPV flying.

With this setup you need to remove the extension of the Slow Stick boom to make up for correct CG displacement due to weight of motor at the rear of the trike instead of at the front of the boom, as a typical Slow Stick setup. The PRO to this is a totally unobstructed front view for FPV. The CON to this is Rear Motor Mount is limited in height and you may need to go with smaller diameter prop and higher KV Motor than originally on your model.
MIA "Pusher" Rear Seat Motor Mounting KIT
GORGEOUS!!! MIA Quicksilver Style "Full" Aluminum and Carbon Rod Frame Kit
If you prefer a Quicksilver style RC Microlight "FULL" Aluminum Frame Kit go with the following setup.

The Real Quicksilver Inspiration

MIA's RC Version Methodically Simplified for Ease of Assembly and Versatility
You can still use the wings from the Slow Sticks or make your own as shown above. This is a gorgeous! MIA 2014 Blue anodized "ALL" aluminum tube with Natural aluminum square tube frame and Carbon Rods suitable for mounting motor behind the trailing edge of the wing. A true Quicksilver like UL in scale. Comes with Trike LG, MIA Phantom Carbon Pattern seat and front panel, Battery Plate and Servo Brackets like on MIA Conversion UL kits for the Slow Sticks but has additional tubes, brackets, Carbon Rods and Hardware to make up the more realistic Quicksilver like structure. The motor is shown for reference and does not come with the Frame Kit.
MIA Quicksilver Style RC Ultralight Full Aluminum Frame Kit



Accessories
MIA Phantom™ Carbon Pattern Seat/Front Panel Kit $15.75

MIA Phantom™ Carbon Pattern Triangular Side Panels Kit $9.99

Full Navigation Light Wired LED Kit $14.99

MIA Photon™ "Wireless" LED Red and Green

With Built-In Batt. and On-Off Switch Kit $21.99

MIA Custom Decal Sheet $9.99
| | |
| --- | --- |
| | MIA Anodized (Aqua-Blue) Replacement Trike Frame Tubes Only Kit $29.99 |
| | MIA Custom Pan-Tilt Camera Mount For 180 Servos (Coming...) |
A Converted Slow Stick UL can Hold a GI-Joe figure for more realism and fun.

This setup does not use FPV gear as this would add considerable weight to the model and it is only

recommended and shown here for fun flights.

Typical Power: 850 to 1000 KV motor with a 9x6 prop and 3S 2400 mAH Li-pol Battery is a good start.