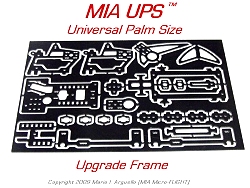 Note this frame no longer has the undercarriage mounting hardware to save weight.
It now comes with integrated G10 Fiberglass LG Struts parts for a Light weight and robust Tongue and Groove assembly.
Top it off with this Great Looking
MIA Air-Ram Canopy - Decals Kit
$12.99
Or for a Stealth Look with this awesome!
MIA Air-Ram Carbon Pattern Canopy
$15.99
MIA UPS ™ - Universal Palm-Size

Ultra Miniature Helicopter Frame Kit
Designed in traditional real larger RC Helicopter architecture.
Works with all the following:

Walkera 4#3

Walkera 4#3A

Walkera 4#3B

Walkera 4#3C FP Hybrids

Walkera 4G3 Especially " Double Brushless" Setups

Novus FP

Novus CP

Mini Spark FP

Will also work with

Walkera 4#6 (with custom DD tail motor)

Walkera 4G6 (with custom DD tail motor)

Or

Your Own Hybrid Palm Size helicopter

Limited only by your imagination!

This kit comes With MIA TUFF ™ LG Sruts

and stylish G10 SKids
What this kit does for you
This upgrade frame Kit turns the above mentioned helicopters into a robust, yet lightweight, more realistic tiny helicopter. It eliminates the "toy-like" look of the stock Walkera, Novus, Mini Spark helicopters and makes them more versatile.
A must have Wakera 4G3 frame upgrade!, Takes up to 3 Walkera 4#3/4G3 servos for full Collective Pitch CCPM operation. Also works with Fixed Pitch 2 servo mechanics. For Scale helicopter projects, like the MIA MD Hughes 500, simply remove the boom and drop the main frame with mechanics inside the scale fuselage.
Kit Contents
A COMPLETE NEW HELICOPTER STRUCTURE PACKAGE!
| | |
| --- | --- |
| | Main Frame Parts CNC machined from G10 Fiberglass |
| | MIA TUFF (TM) Ultra Miniature LG Kit |
| | G10 Skids |
| | 3mm OD Carbon Boom |
| | Original MIA Flex-Rigid Frame Blocks |
| | Red and Black Wire |
You will Need CA Glue & CA Accelerator Sold Separately and small tools for assembly. Please read the MIA Kit Intro and Kit Instructions
Key features
| | |
| --- | --- |
| | Quick Strong Assembly - Tongue and Groove Design |
| | Combines CA gluing and miniature hardware build |
| | Builds into a Universal and extremely Versatile Frame |
| | Gorgeous Unique Design and Parts layout |
| | Can be used with various and unlimited RC equipment |
| | Can be used with previous MIA (FELX/RIGID) white block bearing supports and parts, included in kit, for total versatility in choice of particular assembly for particular helicopter set up and type. |
| | Longer Fin Set for greater tail rotor protection. |
| | Can be used with MIA Canopies and scale bodies as well as Stock ones, direct and some with slight modification. |
| | Tail gear box with provisions for various size and bolt on motor holder diameters, 2 gm, 2.9 gm BL Direct Drive or Geared Drive motors. |
| | New Lightweight but strong G10 Skids |
| | Red and Black Wire |
| | Carbon Boom 3mm OD included, Aluminum larger OD boom is optional. |
Aluminum Boom

(optional)

$2.99