SRB Quark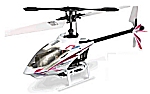 Original Product
Pros
Great Stability and ease of flight in a Sub-Micro helicopter for anyone looking for a simple FP ultra stable heli.
Highly recommended helicopter for anyone looking to transition from super stable coaxial type helis.
Think of this helicopter as a real live simulator that will give you the skills needed in very little time to go to more elaborate "collective pitch" 3D helicopters.
Cons
The Cons are not a negative of the helicopter but areas that we feel could be made much better with MIA Upgrades to enhance further the durability, performance and provide and awesome retro look.
Blades are factory made in foam for the awesome performance, which is hard to beat with any other type of conventional blades made from different materials, but their drawback is that they break easy. This can be seen as a plus because it saves other parts from breaking, but can be a nuisance having to replace them often.
Battery cage location offers very little adjustment for CG and hinders the use of aftermarket batteries.
The LG is awkward looking and offers a narrow footprint making this great heli harder to take off and land in untrained hands.
The Canopy is molded from heavy plastic 11 grams! vs. approx. 4 grams for MIA Canopies and adds considerable weight which can take away from much better flight times and increased performance.