An Introduction to MIA Phantom-Edge ™ Bodies

Another Area that we specialize in is molding canopies and scale bodies for micro helis.
I started molding RC Helicopter bodies many years ago as a hobby, the typical way most hobby enthusiasts start with, a sheet of plastic, a kitchen oven, a pseudo shop-vac retrofitted sealed box with perforations on the surface and a frame to hold the sheet of plastic. I was able to form over a wood plug, for a large 60 size helicopter canopy, with some degree of success, but at the time, was no where near the detail and quality of the canopies we mold for current production.
As I got more involved and serious about taking my hobby into a business, I started looking into more industrial type of molding equipment. Over the span of many years, I searched for ideal machines that would satisfy my production needs, but did not find suitable ones, most of the them were very expensive and some were not efficient, so I designed and built my own molding equipment to form various size bodies to MIA product specs.
This page is a compilation of some of my favorite MIA Phantom and Edge ™ canopies and bodies we produce. They carry a unique and original style which, as with most of our other products, has become easily identifiable with MIA Micro Flight ™, over the span of many years.
Real Carbon and Resin Molding vs. Vacuumed Formed Carbon Pattern Plastic
Over a decade ago, while molding real carbon helicopter blades for some of my earlyy micro heli designs, I decided to try molding canopies also from the same carbon cloth material. While working with carbon or fiberglass cloth and resins is quite messy, I managed to make some beautiful carbon-resin molded thin shell canopies, but they did not stand to the abuse helis go through, when one is learning to fly or when flying them more aggressively. Thin carbon canopies, as many fiberglass molded canopies, tend to crack very easy on impact. I needed to find a much better material and eventually I did. I have not gone back to carbon and resin molding since.
I selected the name MIA Phantom ™, to designate the cool and stealth look of our carbon pattern molded canopies and bodies, while selecting the name MIA Edge ™, for the more colorful ones.
The MIA Air-Ram ™ canopies have strategically designed air scoops, to allow air-flow inside the bodies to help keep the helicopter motors cool, most effectively in fast forward flight, where the air rushes inside the scoops, thus the name "air-ram".
MIA Phantom Air-Ram ™ Canopy




MIA Edge Air-Ram ™ Canopies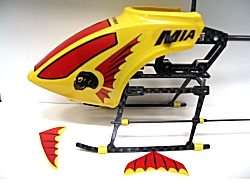 MIA Edge™ Canopies

| | |
| --- | --- |
| MIA Phantom Pro™ | MIA Phantom Bat™ |
| MIA Phantom™ | MIA Phantom Bat™ |